During our dreamy weekend trip to Maffliers, we dedicated an entire day to Auvers sur Oise. The town felt like one large family's estate. Everyone knew each other, waving and calling out from across the road, saying hello to each others pups and babies.
We also saw a LOT of people dressed somberly.
That was soon explained by a funeral procession that had almost all of the little town in attendance. Many of the elderly were carrying vintage and beautifully ornamented French flags!
This beautiful hamlet has been home to Daubigny, Paul Cezanne and Van Gogh. It was Cezanne who suggested Van Gogh move to Auvers under the care of village life and Dr. Gachet.
I can so imagine Van Gogh sitting in a café sipping on some absinthe, with a brush-end between his lips, absorbing the city. This is fittingly the place where he spent the last few days of his life.
Lunch at the Relais des Peintres
We reached Auvers-sur-Oise at lunch time and decided to eat at the Relais des Peintres  (or "a pause for the artists").
The food was incredibly delicious and mind fumblingly healthy. The starter was an exotic cheesy turmeric dip, with chicken. Funny,  an Indian should call turmeric "exotic". HA!
One of us had Tuna garnished with baby carrots on a bed of thinly julienned onions; and the other devoured her Loup de la mer (= sea bass) on a bed of delicious wild rice with home-made tomato sauce and asparagus. For desert the "three in one chocolate tart" was a beautiful surprise. Words can't do justice.
Our lil bub had a piece of baguette for the first time. Et voila, just like that the Frenchie's baptized!
Van Gogh's Auvers-sur Oise
We walked towards the Mairie (= Mayor's office) – a map outside explains the layout of the city.  A stroll starting at the house of Dr. Gachet, the doctor who cared for Van Gogh, to the Château of the village, and then the Museum of Absinthe takes about 20 minutes. Just a few minutes away from the mairie, is the home of Vincent, across the road from the estate of Charles Francois Daubigny. A 10-minute walk up the curvy roads of Auvers, and you reach the church immortalized by Van Gogh. And finally, another ten-minute walk later, when all you see are fields until the horizon, you reach the cemetery where Vincent and Theo, his beloved brother, lie next to each other in eternal sunshine.
But all I wanted was to visit Vincent. It was late noon, by the time we set out to meet with him.
Auberge Ravoux
First built as a home and then a wine shop, the building was always an artists' haunt. It was Arthur Gustave Ravoux, who turned this place into an Auberge or an inn, again frequented by artists.
Van Gogh was one of them. He lived here for a mere 70 days.
The last 70 days of his life.
In this short but genius span of stay, he created 80 paintings and 64 sketches. Throughout his life, he had over 30 addresses. But this is the only one that is open to public.
The house can be visited with a guide (check the website for days). The tour begins at a tiny but well stocked book store. Lucile, our guide was lovely. I say this because we had a very annoying lady, who kept interrupting to ask questions. But when two little kids, wanted a bit of translation help from their dad, she snapped at the family. Lucile managed the lady and the family like a pro. She also helped me pick some books at the end of the visit.
The tour begins with a short film on Vincent's life, his stay at Auvers, some old photographs of a handsome young man, turned into a feverishly possessed artist.
The inn has two rooms – one furnished and belonging to Hirschig, the other artist who occupied the Auberge. And Vincent's room, with just a chair and an open window. The only other thing that were his, were the holes in the wall, to hang his paintings to dry.
The dining area below is where he ate many a meals. It has now been turned into a restaurant.
Note for Parents: When we visited, carrying the baby stroller up to the rooms was prohibited, due to lack of space and lots of stairs.
Death: Suicide or…?
Vincent committed suicide in the very same wheat-fields where he painted for hours. He, however, died 30 hours later, smoking a pipe and with his beloved brother next to him. This, was how he wanted to go.
Our dear friend Vincent died four days ago.

I think that you will have already guessed the fact that he killed himself.

On Sunday evening he went out into the countryside near Auvers, placed his easel against a haystack and went behind the chateau and fired a revolver shot at himself. Under the violence of the impact (the bullet entered his body below the heart) he fell, but he got up again, and fell three times more, before he got back to the inn where he was staying (Ravoux, place de la Mairie) without telling anyone about his injury. He finally died on Monday evening, still smoking his pipe which he refused to let go of, explaining that his suicide had been absolutely deliberate and that he had done it in complete lucidity. A typical detail that I was told about his wish to die was that when Dr. Gachet told him that he still hoped to save his life, he said, "Then I'll have to do it over again." But, alas, it was no longer possible to save him…
Up until this visit I had not a shadow of doubt that Vincent's death was certainly a suicide. That he shot himself. This is the version I believe, given that he was in a convalescent home prior to his stay at the Auberge. That in a letter to his brother, he wished clearly, to die as he did. That when Dr Gachet told him that he still hoped to save his life, Van Gogh replied,
Then I'll have to do it over again.
However,the cynic in me raised herself stiff, when alternate theories of murder floated. That there was some foul play. But researchers have recently found the "revolver" that Vincent supposedly, used to kill himself. And, this gives credibility to the fact that it was, unfortunately for the rest of us, suicide.
This small calibre, 7mm pocket revolver was found where Van Gogh shot himself in the chest and its extreme corrosion suggests it has been in the ground since the 19th century. The pocket gun of a type called Lefaucheux à broche helps explain why the bullet glanced off a rib into Van Gogh's abdomen and why he took 30 hours to die from a point blank wound.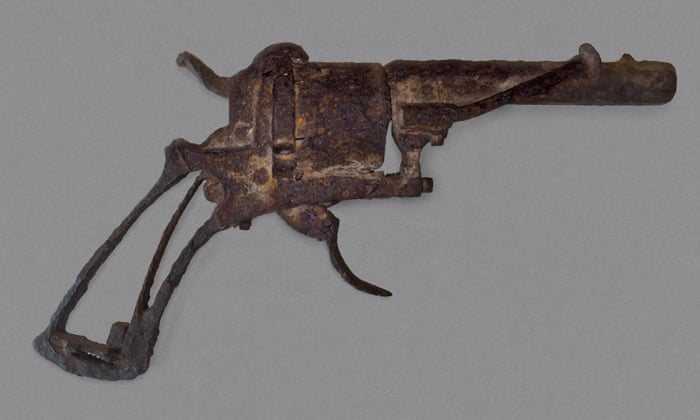 As I exited the house, I realized his life still means so much to so many people. And that «The sadness will last forever ».
Just outside the compound of the house, a block away is the the Maison/Atelier (house/workshop) of Daubigny. We walked to the church and concluded our walk at the Cemetery of Auvers-sur-Oise. The walk was paved with Lilacs, Coquelicots and what I think are Colza flowers.
Do notice the painted postboxes outside the many homes on the way. And don't miss the landscapes marked with little painting squares, to remind you that the spot inspired Vincent to paint it. Spend a minute, with your eyes closed, and recreate the magic of his moment.
Brothers together, forever.
Going to back to my earlier story – there was a funeral procession marching towards the church. An elderly member of the French Resistance, had passed. The procession included crisply dressed, uniform clad gentlemen, who might have been his peers. We decided to not enter the church to let the family have it to themselves. Instead we walked to the cemetery.
We followed Google maps and ended up taking a longer, more busy street to the cemetery. We had to ask a few people to get back on track. Once we did, it was a mere skip away.
Vincent's Grave:
Theo died six months after his older brother. "Dementia" was cited as a cause, as was "sadness".
The Van Gogh brothers rest close to each other in a very simple yet green grave in Auvers-sur-Oise. Right by the tombstone stands a lone, tall, and a proudly yellow Sunflower.
On the walls of the room where his body was laid out all his last canvases were hung making a sort of halo for him and the brilliance of the genius that radiated from them made this death even more painful for us artists who were there. The coffin was covered with a simple white cloth and surrounded with masses of flowers, the sunflowers that he loved so much, yellow dahlias, yellow flowers everywhere. It was, you will remember, his favourite colour, the symbol of the light that he dreamed of as being in people's hearts as well as in works of art.

Near him also on the floor in front of his coffin were his easel, his folding stool and his brushes.
Some of the other tombstones are really touching. After every diversion, however, I was pulled back to Vincent's simple corner. The funeral procession was approaching the cemetery as we left.
Be part of Van Gogh's dream:
In a letter to his brother, Vincent wished that he could have had an exhibition of his works in a café.
Today, a lot of Van Gogh's works are held by private entities, And thus not really for the public – as he desired. A non-profit organization, Van Gogh's Dream, aims to buy one of his works, and put it up in his room at the Auberge. If you want to be part of making his wish come true do visit them here.
---
CREDITS
The quotes above are from a letter written by Emile Bernard to Albert Aurier on the August 2nd 1890 in Paris.
Another fabulous website for letters to and from Vincent.
---
Getting there: From Paris
BY TRAIN 
Journey time: approximately 1 hour
Take a train from Saint-Lazare or Gare du Nord, direction Pontoise. Change at Pontoise for Persan-Beaumont, get off at Auvers (250 meters from Ravoux Inn)
Train times: www.transilien.com
BY CAR
Route: 30 kms (approximately 40 minutes) via Gennevilliers to A15 direction Cergy-Pontoise. Take A115 direction Beauvais-Amiens. Exit motorway for "Méry-sur-Oise Centre". Follow indications for 'Maison de Van Gogh'.
FROM AIRPORT ROISSY-CHARLES DE GAULLE
Journey 35 kms, approximately 35 minutes
Take 'Francilienne' Motorway A104, direction Cergy-Pontoise.
Exit at Méry-sur-Oise Centre.
Follow indications for 'Maison de Van Gogh'
Visit Maison de Van Gogh for more information.
Visit my Instagram for more pictures!